Whether you're headed to work or a party, stylish footwear will always give you a trendy look and add a unique touch to every outfit you wear. You can own a pair of boots for winter or sneakers for summer. Here are a few for you all.
1. Black and White Cowboy Boots
Buy a funky black and white cowboy boots. Pick an ankle-length pair or the one that goes up to your leg – they're a classic that keeps returning. Wear it with blue denim or a monochromatic ensemble and capture the attention of everyone.
2. White Kitten Heels
Add a trendy touch to your dress with the kitten heel booties. White is one of the best shoe colours, so showcase them by wearing pop or pastel shades to make them different. This footwear looks great with jeans and a coat or with a midi skirt.
3. Straight Leg Boots
Say goodbye to your common footwear that gives you trouble while you walk, and welcome these straight leg boots. Not only do they look stunning with long and flowing dresses, but they're a great way to keep yourself warm in winter. Choose from something simple or go with a funky pattern or an animal print with this shoe.
4. Ornate Heels
Let your feet do the talking with these heels. Whether they're gold, silver or crystal, you will set a statement with this shoe. It can be a plain design with a decorative embellishment is all you need to make a statement as well.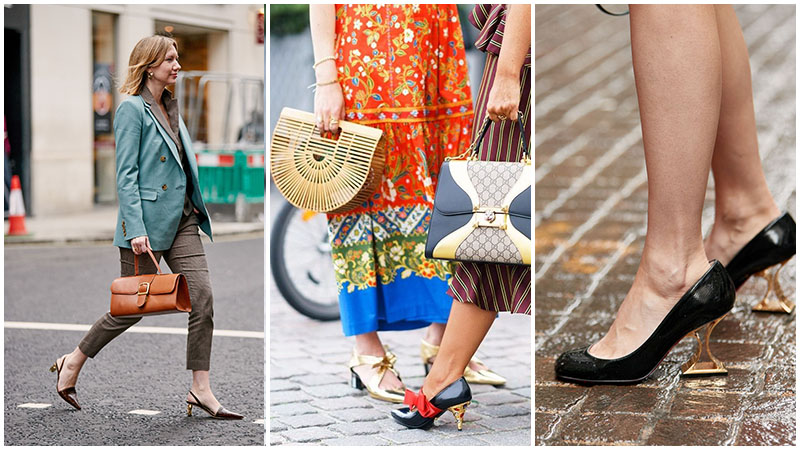 The cut-off design put a fresh twist on your classic footwear. Wear an ankle-length pair and show off your pins, or go for the knee-high style, and rock it with a skirt as well. These shoes look great in any kind of dress.